State-of-the-art cosmetic, medical and surgical services for adults and children at every stage of life
Chemical / Glycolic Acid Peels
Chemical / Glycolic Peels: Reveal Fresh Skin Beneath the Surface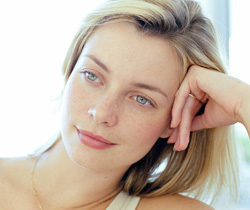 What is it?
Chemical solutions, applied directly to the skin, "peel away" surface damage to reveal the healthier, more vibrant skin that lies beneath. These chemical and glycolic peels treat damage caused by sun exposure ( photoaging), erase unattractive spots (such as freckles or liver spots) and remove fine lines and wrinkles. Chemical peels may be used on other parts of the body, including the chest, hands or arms, in addition to the face.
What does it do?
A chemical peel works by removing several layers of sun- and weather-damaged skin cells, renewing the color and texture of the skin's surface. Removing the top layers of skin may also stimulate formation of new collagen, making skin feel suppler. There are peels of differing intensity. You may choose one to repair skin on the surface, to a moderate depth, or elect to have a peel that goes quite deep into the layers of skin. Your doctor will discuss the best options with you.
What does it feel like?
Depending on the intensity of the peel you decide to have, you may be given topical or local anesthetic to reduce discomfort. Before your peel, you will be given pre-treatment skin conditioners to apply for several weeks in advance. These help encourage exfoliation and also may reduce pigmentation, making the skin more amenable to dramatic improvements. Correct use of the conditioners can also reduce healing time.
After a superficial peel, some patients experience redness and swelling that resembles a sunburn – usually this lasts no longer than 48 hours. Makeup may be applied after two hours. Moderate and deeper peels typically result in prolonged healing time.
Superficial peels may be repeated fairly frequently in the office and at home with a home peel system. Moderate and deeper peels are usually only needed every three to six months.
Glycolic Acid Chemical Peel
What is it?
A popular kind of peel utilizes glycolic acid, a form of alpha hydroxy acid (AHA) isolated from sugarcane. This is among the most active and beneficial of the alpha hydroxy acid skin care products, which are useful in reducing irritation of the skin.
What does it do?
A glycolic peel works by weakening the cells that hold dead skin cells together. This enables the damaged outer layer of skin to be removed (peeled away) to reveal new skin underneath. It also penetrates the membranes of the new skin cells, stimulating them to generate collagen and elastic fibers that improve the appearance of skin as well as strengthen it.
What does it feel like?
Your face will be carefully washed, to remove surface oil. The peeling agent is applied and left on for 1-2 minutes, and it may sting slightly (we use a fan to help soothe this temporary discomfort). A neutralizing agent is applied to halt the chemical action and the burning sensation immediately stops.
Advantages:
Alpha hydroxy acids, including glycolic peels, are among the mildest forms of chemical peel. These treatments lead to a smoother and more radiant skin. They are especially useful for men and women who have:
Superficial wrinkles and fine lines on the face, neck, chest or arms
Uneven pigmentation
Enlarged pores, particularly on the face
Superficial acne scars on the face
Age (liver) spots
Dry patches