State-of-the-art cosmetic, medical and surgical services for adults and children at every stage of life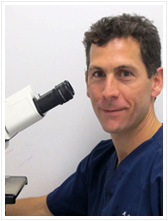 Michael Jacobson, M.D. is a Board Certified Dermatologist who specializes in the diagnosis and management of skin cancer. In addition to his training in dermatology, he has completed a rigorous one year fellowship in Mohs micrographic surgery for the treatment of skin cancer during which he performed more than 1,000 cases of Mohs surgery and reconstruction for many types of skin cancer. He is a member of the American College of Mohs Surgery (see www.mohscollege.org and www.skincancermohssurgery.org).
Academically, Dr. Jacobson has authored scientific articles and book chapters. In addition, he has spent many hours lecturing and coordinating hands-on teaching of surgical techniques to dermatology residents.
Dr. Jacobson prides himself in making sure patients understand their skin cancer diagnosis, treatment options and prognosis thoroughly. He strongly believes the time spent with each individual patient creates a trusting and healthy doctor patient relationship.
"In my experience it is extremely helpful for patients to understand the Mohs procedure, reconstructive options, healing times, and other aspects of the surgical treatment. Therefore, it is very important for me to personalize my experience with each patient. I truly enjoy getting to know my patients."
If you are diagnosed with a cancerous or precancerous skin condition or have any other dermatologic surgery needs Dr. Jacobson would be happy to meet with you. He is currently accepting new patients.
Dr. Jacobson lives locally in our community with his wife and two daughters. In his free time he enjoys bicycling, cooking and coaching his daughter's soccer team.
Curriculum Vitae: Michael Jacobson, M.D.
Degrees: B.A., University of Pennsylvania, Philadelphia, PA – Suma Cum Laude
M.D., Jefferson Medical College, Philadelphia, PA – Magna Cum Laude
Dermatology Residency: Chief Resident, Medical University of South Carolina, Charleston, SC
Fellowship: Mohs Micrographic Surgery and Procedural Dermatology, SUNY Downstate
Special Interests: Diagnosis and treatment of skin cancers and other precancerous conditions, Mohs micrographic surgery, reconstructive dermatologic surgery, melanoma, rare skin cancers, excision of unwanted or symptomatic benign skin lesion