State-of-the-art cosmetic, medical and surgical services for adults and children at every stage of life
Therapeutic Acne Facial Treatments
Medical Facials: Revitalize, Refresh for Radiant Skin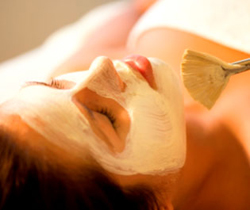 Everyone is unique, a basic tenet upon which our practice of dermatology is built. Our staff will thoroughly assess your skin to design a customized medical facial that will replenish, rejuvenate and refresh your skin. Whether you are treating acne, fine line reduction, cleansing deep pores or exfoliating we will design a rejuvenating regimen for optimal health.
What is it?
A medical facial combines European facial techniques with effective medical treatments to achieve deep cleaning and hydration for your skin. The procedure begins with a comprehensive clinical evaluation of skin characteristics by one of our specially trained clinicians. Both relaxing and therapeutic, our facials are customized to deeply cleanse, thoroughly exfoliate and effectively hydrate the skin. Our medical facials treat oily, dry, dehydrated, acne and acne prone skin conditions, among others. Even for those with normal, healthy skin, a medical facial can provide a gentle softening and soothing treatment that loosens dead skin cells without dehydrating the skin.
Advantages:
Medical facials can and should be part of your maintenance regimen for optimal skin health and appearance. We use full extraction techniques to clear clogged pores and to treat acne-prone skin. More effective than a spa facial, a medical facial at Long Ridge Dermatology combines the relaxation and cleansing of traditional techniques with a medical approach to skin rejuvenation.